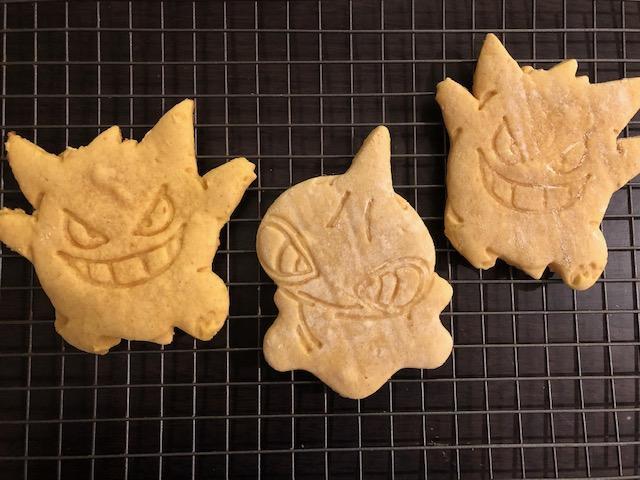 Pumpkin Sugar Spoo-kie Recipe
Eva Wei 0 comments
It's that time of year! Fall is upon us and what better way to celebrate than to bake some fall-inspired treats?
These pumpkin sugar "spoo-kies" are a great recipe to use Ghost Pokemon Spoo-kie Cutters with!
Usually the recipes for rolled cookie dough tend to be plain sugar cookies or gingerbread, but the flavors of pumpkin and cinnamon make this recipe uniquely tasty! These cookies come out on the softer side and are perfect when frosted.
Ready to start baking? Here's what you'll need:
INGREDIENTS:
1 cup white sugar
3/4 cup butter, softened
1 egg
1/2 cup pumpkin puree
1/2 teaspoon vanilla extract
1/2 teaspoon ground cinnamon
1/2 teaspoon salt
1/2 teaspoon baking powder
2 1/2 cups all-purpose flour
DIRECTIONS:
Beat sugar and butter together using an electric mixer until smooth and creamy; beat in egg until smooth.
Mix pumpkin puree and vanilla extract into creamed butter mixture; add cinnamon, salt, and baking powder. Stir flour into the pumpkin-butter mixture just until dough is mixed.
Chill dough, 2 hours to overnight.
Preheat oven to 400 degrees F (200 degrees C). 
Roll dough onto floured work surface and cut into shapes using cookie cutters of choice. I used the Loot Cave Co Ghost Pokemon Cookie Cutters. 
TIP:

Dust flour on top of the dough to prevent cookie cutters from sticking! 
Bake in preheated oven until edges are lightly browned, 6 to 8 minutes. 
Frost to your liking and enjoy! 
-----------
If you make this recipe, be sure to snap a photo and hashtag it #LootCaveCo. We'd love to see what you cook!
Love the Ghost Pokemon Cookie Cutters? Check out our Pokemon Gen 1 Starter Cookie Cutters!